Main & supplemental configurations are available to meet your specific producti

on require

ments and may include:
Overhead Uni-hoist
Side-arm style hoist
Compact systems for medical/dental parts (See Photo B)
Supplemental Handling Equipment
Fast-transfer arms
Motorized carts
Pushers
Elevators
See Data Sheet A-10 for further details.
Uni-Hoist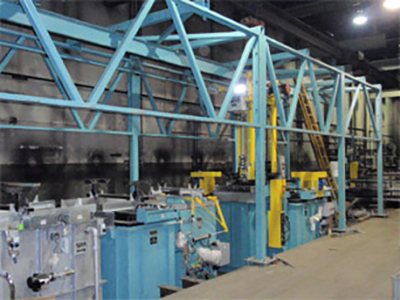 Features:
Compact and adaptable to light or heavy loads
Modular design reduces installation cost and set up time
Flexible programming through PLC's or computers with convenient operator interface.
Positive, no-slip horizontal and vertical drives with variable speed.
Each load is centered when lifted or lowered
Lift capacity up to 1000 lbs
Production capacity up to 3000 lbs per hour
Each system is pre-tested and pre-adjusted prior to shipment.
Optional remote access via the internet for customer assistance
Optional connections for offsite monitoring of alarms by customer's security service.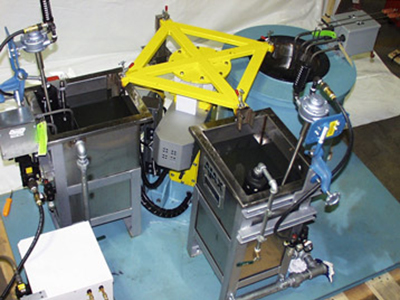 Enclosures:
Sturdy custom enclosures fabricated from painted steel or galvanized steel are typically supplied with automated systems for safety purposes. Enclosures can include many useful features such as sliding doors, lighting, stairs and catwalks.
Walkway and Enclosure